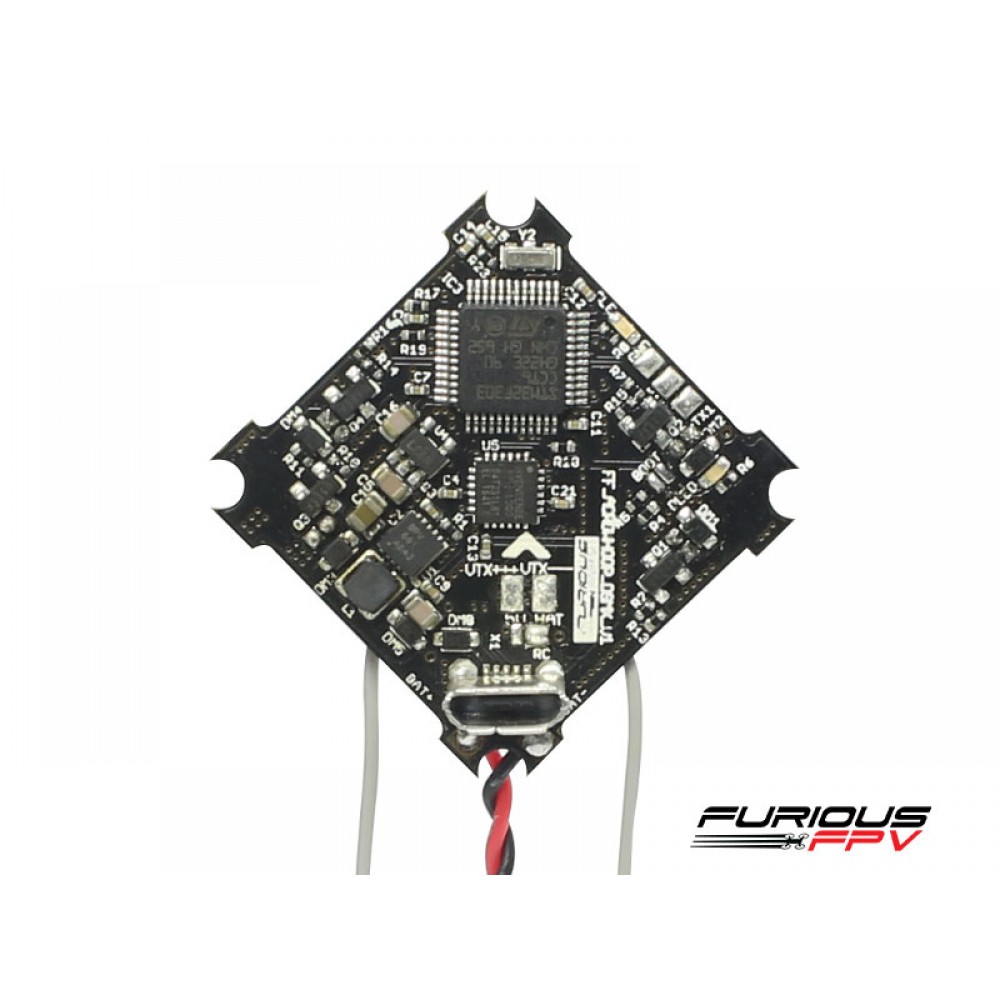 Furious ACROWHOOP V2 Flight Controller for Spektrum
Product Code:
FPV-ACRO-SP
Product Description
Furious FPV Acrowhoop V2 - Take It To the Outer Limits
Pushing the outer limits and beyond, Furious FPV leaves nothing unchanged in the FPV world, and when it comes to aircraft like the Inductrix, we have developed the all new Acrowhoop, allowing full aerobatic & race mode flight. Are you ready?
Introducing the very 1st F3 chip on the market in a package this compact, the Furious Acrowhoop has been designed for cutting edge FPV insanity, offering pilots the ability to push like crazy with this palm sized machine. Further this with DMSX compatible micro Rx, the Acrowhoop is nothing short of miraculous in the world of micro FPV.
With the F3 chip and MPU6000, the Acrowhoop is ready for acro & race mode via BetaFlight, offering pilots the ability to dial in what defines the way they want to fly. With the Acrowhoop, ultimate levels of FPV madness await in a feature packed layout that leaves nothing left to desire.
For fans of micro quads like the Inductrix, take your flight to an entire new world with the Acrowhoop - the pinnacle of FPV insanity via Furious FPV.

Note: This product is only compatible to Spektrum DSMX/DSM2 radios
---
Download User Manual: ACROWHOOP V2 Flight Controller for Spektrum
Betaflight target: Betaflight_3.1.7_ACROWHOOPSP.hex
---

Features:
- Specifically Designed for the Inductrix
- Acro Mode & Race Mode Ready
- Industry 1st F3 Chip w/ MPU6000 at center.
- New USB on top for easy access
- All FETs are rated at 6.3A maximum
- Ultra lightening 0.1s telemetry rate
- Built-in diversity receiver, compatible DSMX module :Spektrum DX6, DX6E, DX7, DX8, DX9, DX9E – JR: JR12X, JR11X, JR9503, JR9303
- Spektrum 2048 support 12 channels
- LED support
- Betaflight support
- Light weight :3.4gram
Pakage includes:
- ACROWHOOP V2 Flight Controller x 1pc
- JST 1.25 2-pin Connector with Silicon wires (male&female) x 1pc
- Screw x 4pcs
There are no notes for this product.